A word that's come into renewed fame with today's generation is streak (not the running-naked-through-the-streets kind).  By definition, it's "a continuous period of specified success or luck".  Often I hear teens exclaiming: me and so-and-so are on a daily snap-streak (referencing the ever popular world of snapchat).  In the workout world it's the daily workout streak, or daily run streak.  Regardless, to break any streak, in any way shape or form, is complete anarchy!  You just don't do it.  Keep it going for God's sake, lest the apocalypse be upon us.  Or more simply, you'll just be considered a total loser if you break it.
In true New Year's fashion, I made a resolution to finally commit to yoga.  I found an awesome program called Asana Rebel via a FB feed.  And…but of course…there's a nominal yearly membership fee.  God forbid I find some sort of self torture that didn't involve a wallet drain.  Almost 60 bucks for me to open up my computer and see some tall skinny bitch flowing effortlessly from pose to pose all the while coaxing me in a soft calming voice to do the same.  I'm sorry, but how am I supposed to effortlessly flow my leg from an extended position in "downward dog", all the way up to my ear while keeping my hands planted on the floor in a "plank" position?  I'd have a lot more respect for her if she'd yell some profanities my way.  If she could hear my voice in reply of her gentle commands it would give her some good examples!  Just slightly shy of soft and calming…
Nevertheless, it's all about keeping a streak going.  As soon as I pull up the screen there is a big notation of how many days you've done it consistently.  I'm sure you can imagine my astonishment when I opened up Asana Rebel on the third day and saw "STREAK—0″.  And even up to this point, I think my streak high is 2 days!  In true resolution fashion I did the first day, missed the second day, did the third day…  As you can imagine, I have confirmed my position as NOT in this generation, because I couldn't be worse at a streak.  Let's be honest, it wouldn't be my resolution if I succeeded from the get-go!  How could I disappoint my fans and be sucCESSful, no,no,no!  It is hilarious though how a big green circle with a check mark in the middle, or lack thereof, can minimize you.  Any day I open up my screen for Asana Rebel it first shows the calendar with intermittent green circles.  I do love abstract art, but in this case I was going for a more linear effect…not!  If I knew how motivated I'd be by what is essentially a sticker chart for adults, I would have plastered one on my kitchen wall a long time ago!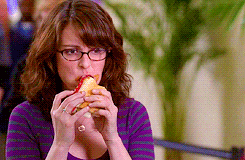 In my frustration with this newfound failure at streaking, and contemplating this whole streak thing in general, it made me think.  Where are the streaks for things I'm good at? Why are all the streaks related to exercise or eating healthy (unless you're a teen on snapchat)? Why can't there be a streak for daily cupcake consumption?  Why can't there be a streak for didn't make dinner?  Or a too fat to fit in my jeans today streak?  There in lies my success!  I would be on a streak you've never seen before!  I would have the streak of ALL streaks!!!  So, my dear friends, anyone who's on a streak worth streaking for, I'm all ears.  Until then, I guess I'll keep yearning for my green dot…UGH!!!