The day of the interview I was on POINT!  I wore a beautiful salmon colored blouse, loose leg navy pants with nude shoes, appropriate gold jewelry that was understated yet noticeable.  Sitting next to the other interviewee in the lobby, I clearly claimed role of "Boss", and not as in the title of the job I was applying for…as in "Stay in your lane cause I'm claiming the highway" kind of BOSS!  I got the job.
Today was a different story.  It was orientation, dress requirement was business casual.  First disclaimer:  this is a part time gig I'm fitting in among a full time job and school.  Second disclaimer: I wear scrubs (aka PAJAMAS) to work on a daily basis so business casual is not in my wheel house.
Anyone living on the East Coast knows the drastic changes in weather we've been having and quite frankly I haven't had time to crawl my ass up into the attic, via the broken ladder which means I may get stuck up there till someone finds me who knows when, to change out my summer clothes for fall clothes.  And for those of you who have no idea what I'm talking about, we're clearly not living in the same stratosphere, so just stop reading now because none of this will be relatable!  Back to the point…  Let's just say, when you wear scrubs every day you don't really have the need for a large array of nice clothes.  Add to that, the fact I have two teenage daughters who have grown up in the generation of don't wear the same thing twice mentality, you can imagine my choices for today's business casual were limited at best.
Knowing I had a brief window of time to get out of the house without my commute turning into triple time, made this morning a main event.  Trying to find something other than the salmon shirt with navy wide leg pants to present myself required some serious focus.  Running between 3 bedrooms (mine and my two daughters) in multiple stages of undress was nothing shy of an I Love Lucy episode.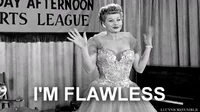 It took me a little while to realize why my husband was planted for so long in the brown leather chair which faces the hallway.  As if my intention of this escapade was for his entertainment.  Poor guy, it's probably the most action with a half naked woman he's seen in a while.  Had to let that one go.  At least one of us was starting our day off right.
In the end, my daughter's closet was most beneficial, producing  a dark green sweater with specks of burgundy.  I'm not sure who owned it, who last wore it, or when it was last washed, but it passed the smell test.  I also found a pair of maroon shoe boots that although were a half size too big, I figured there wasn't going to be much walking at orientation so I could suck it up.  The only pair of pants I had which weren't sweats, and weren't jeans, and weren't the navy blue wide leg pants I had already rocked at the interview, were a pair of light beige ankle pants that fall into the "don't wear past Labor Day" category.  All together I had convinced myself that I was sporting a Fall-look.  I had reached my full peak of rationalization.  You know the point at which you are staring in the mirror long enough you can make sense of ANYTHING you've put on?  Yah, we've all been there.  With 10 minutes to spare I figured I'd throw on some makeup to distract from the whole "fall-look" thing that was going on.  If my clothes were going to be a hot mess I could at least try to be presentable from the neck up.  Sadly, I had also banked on getting 3 days out of a hairdo, today being day 3.  Why didn't I buy that dry shampoo my friend Kelly suggested???  UGH!!!
So I arrived on time, first one there, no one to distract from my just-gathered-this-shit-up-from-a-good-will-box appearance.  The second person arrived in an appropriate black pair of pants with a gray/black sweater combo looking lovely.  I sat far away from that bitch!  The icing on the cake for my fall-look was the fact that when I did sit down, the summery beige ankle pants which are meant to be worn with a cute pair of sandals, rode up about 5 inches to expose my pasty white legs which were NOT on the list for recent lawn maintenance! But, the cherry on top was the third person who arrived.   The third person arrived in a pair of scrubs.  A FREAKIN PAIR OF SCRUBS!!!  Thankfully homicide is not in my nature…